Details about Microtalks, Panels, and More!
Three Minute Thesis (3MT®) celebrates the exciting research conducted by PhD students. Developed by The University of Queensland, the exercise cultivates students' academic, presentation, and research communication skills. The competition supports their capacity to effectively explain their research in three minutes, in a language appropriate to a non-specialist audience.

Prevalent in the sciences, Poster Presentations provide graduate students the opportunity to present research they conducted as an individual or team. Presentations are 15 minutes including Q&A.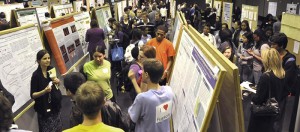 Panels are a collection of oral presentations conveying theory, research results, or other scholarly content that is focused on one or related topics. Each panel lasts 45 minutes, includes a short introduction by a moderator, and consist of at least three graduate students.
Media Manipulation- this panel will include research which addresses the many manipulations /meanings of media
            Ex: The solutions and compounds chemist use for their research; Which mediums do you use to execute your research? 
Climate Change- this panel will include cross-disciplinary approaches to our changing environmental, political, or classroom systems
           Ex: Consider how the climate in terms of weather, social, or political, has impacted the world around us.
Minding the Gap-  this panel will include research which fills a gap or need in the current research climate.
          Ex: How is your research helping to answer questions that have come from our environment or situations.
Not sure where you fit?! Submit an abstract and we will place you in a category and send you correspondence on how you fit into that particular category.
Microtalks are 3-5 minute informal talks that allow students to share their work-in-progress. Student presenters will cultivate communication skills and garner critical feedback to potentially elevate future research endeavors.
At the Art Exhibition, student presenters can present their work alongside posters to share their vision and techniques to an engaged audience.