September 2022 Update

: Please note that only 2 grants per year will be awarded for each graduate student.
September 2021 Update

: Research and Professional Development Travel Grants (with physical travel) can now be approved here, provided that the student follows the required approval process described here for Domestic Travel, and here for International Travel. 
1. Pre-approval travel must be obtained prior to applying for a Research or Professional Development Grant. Students will need to work with their department to initiate a travel request. Please see below section
GSA Travel Pre-Approval Instructions for 

Students. If authorization is not provided to GSA, this will nullify the grant approval. Instructions on how to submit travel approval can be seen here.
2. No Travel arrangements can be made before obtaining Pre-Travel Approval.
3. All travelers on University-related travel are required to be fully vaccinated against COVID-19 unless appropriate waiver documentation is on file with the university.
FOR PROCESS COMPLETION OF YOUR GRANT APPLICATION, READ TO THE BOTTOM FOR ALL INSTRUCTIONS
General Grant Information 
The GSA has a Grants Program that provides funds for reimbursing graduate students for certain expenses incurred while engaging in professional development or thesis-related research.
In order to provide more and better opportunities for intellectual, professional, and social development, There are two types of grants available from the GSA: Professional Development Grants and Research Grants.
Professional Grants can be used for costs directly related to one's professional development up to $750 such as: attending or presenting at the conference or event relevant to your discipline, traveling to workshops, symposiums, or internships.
Research Grants can be used to fund costs incurred through performing or conducting thesis or dissertation related research up to $1000. This includes research materials not available on campus or through other campus means, traveling to interview participants or collect data, research participant incentives, and most other things directly related to performing research.
All out-of-state and overnight in-state travel be approved prior to making any travel arrangements. Applications must be submitted at least a month before the intended grant usage date. Grant applications are due by the 15th of each month and will be reviewed by the Grants Review Panel about 1-2 weeks after the deadline. Once the GRP has approved the grants, they are sent to the OGSL Staff who will notify the recipients within 5 business days if granted or denied.
GSA does not reimburse for any purchases made prior to grant approval.
Any research materials or supplies that are not fully expended, must be retained within the recipient's department or discussed with the GSA.
Vehicle Use and Meal Reimbursement Rates
As of January 1, 2021 and in accordance with review of the Board of Regents Policy VIII 11.10, the reimbursement rate for the use of a personal vehicle is 56 cents per mile. The meal reimbursement rate is 56 dollars per day as of September 1, 2019. Rates per meal are as follows: Breakfast $13.00, Lunch $15.00, and Dinner $28.00.
Foreign travel is reimbursed at the applicable U.S. Department of State Meal and Incidental Rate without receipts, or the actual cost with receipts.
Memorandum for record: Travel Reimbursement Rates as of January 1, 2021.
GSA Travel Pre-Approval Instructions for Students
This process is designed to facilitate the application for GSA Professional and Research Grants.  The GSA Grant Program provides funds for reimbursing graduate students for certain expenses incurred while engaging in professional development or thesis-related research.  These grants are not sponsored by an outside organization and are not affiliated with the Office of Sponsored Programs or the Office of Contract and Grant Accounting.  For more information on these grants visit GSA's website here.
Process Outline
Student identifies an opportunity for which a grant is appropriate.
Student directly, or working with a department in the event the student is not a GA, prepares the travel pre-approval form.
The form is completed as if the GSA award will be granted to the student.
In all cases GSA MUST be the first approver of the Pre-Approval Form, using the following chart string.   This is accomplished by listing GSA as the first approver and primary chart string. Any personal or departmental support should be added as subsequent chart strings after GSA.

1113-10458-021-GSATRGNT-MAIN
Choose one of the following accounts as appropriate.

7040100 – In State Travel
7040300 – Out of State Travel
7040277 – Graduate Student – Conference Fees
7129900 – Other Grant, Subsidy & Contributions

After completing the Chart String you will need to choose the GSA approver using the drop down box "Approver:",  choose "Dawn Galindo".

Student should be sure to check the box stating that this pre-approval is a part of and contingent upon GSA approving the students request for a Professional Development or Research Grant.

After submission of the Pre-Approval GSA holds the approval until the Grant application is reviewed and approved by GSA.  After application approval GSA approves the pre-approval form and it then continues to process as normal.
In the event GSA does not approve the grant, GSA should "decline to sign" the pre-approval request.
The pre-approval will revert back to review status and should then be cancelled by GSA.
The rest of the GSA grant application process would remain unchanged.
If you are applying for foreign travel, select Dr. Janet Rutledge as the next higher approval.
Grant Selection
Grants are awarded based on the results of a review process described in the GSA Points of Policy (see Section 8). For concerns or questions about this process, please fill out the form on the 'Contact Us' page on the GSA Website or email us at gsa@umbc.edu. Please keep in mind that the application is due by the 15th of each month and will be reviewed by the Grants Review Panel who need about 1-2 weeks after the deadline to meet.
YOU MUST APPLY AT LEAST ONE MONTH BEFORE YOUR TRAVEL DATE OR YOUR APPLICATION WILL BE CONSIDERED LATE AND NOT ACCEPTED.
Once the panel has approved the grants, they are sent to the OGSL Staff who will notify the recipients within 5 business days. All pre-approval forms MUST BE APPROVED AND ATTACHED TO THE APPLICATION BEFORE THE TRAVEL DATE. Keeping this in mind, please consider the grant application deadlines listed below very carefully and apply ahead of time, especially if you are traveling in the last two weeks of the month.
Grant Awards
In order to receive funding through the GSA for reimbursement of expenses, you must complete and submit the application for the grant you would like by the deadlines listed below. All graduate students enrolled in any graduate program at UMBC are eligible to apply. A minimum of 1 hour volunteer time to GSA related events is required following receipt of any GSA grant disbursement. No further grants will be awarded if this requirement is not met. If you are awarded a grant, you must completely use that grant first before applying for further grants in the future.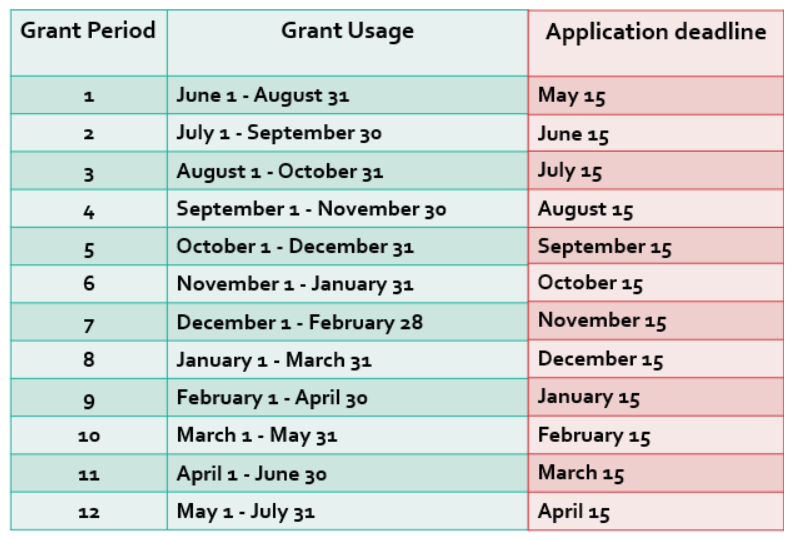 Please note that each Grant Period spans 3 months with an overlap of one month between each period. Please read the dates carefully and apply as early as you can
For more information check out our FAQ page! 
---