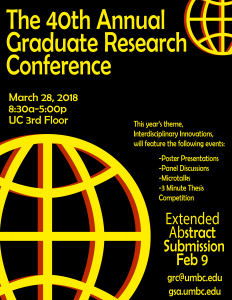 Information
The GRC will consist of several presentation formats. Below are descriptions to help you decide which type(s) of presentation(s) to apply for.
Poster Presentation:
Poster presentations will consist of one hour sessions in which students exhibit their work on a poster. During this time, attendees will be allowed to explore and discover the diverse research projects going on in the Graduate School. Reviewers will review and provide feedback for both poster design and presentation skills. 
Microtalks:
Microtalks are five minute informal talks allowing students to share research-in-progress or workshop new ideas in exchange for immediate feedback.
Panels:
Panels will consist of 15-20 minute presentations as part of an interdisciplinary panel discussion focused on a connecting topic. Each panel will be made of three to four presenters that will have equal time to discuss their expertise on the topic. The presentation will be followed by informal discussion with the audience. Reviewers will review and provide feedback for both presentation design and skills.

This year's panels include:
Building Bridges & Making Connections – Whether you are studying intersectionality or collaborating with other disciplines, this panel highlights research that moves across traditional research boundaries. How are you attempting to build the bridge between your discipline/topic and another?
Man vs. Machine – This panel highlights research which explores the interaction between humans and technology. How does interaction with technology influence human beings?
Global Perspectives – Whether you are studying global policy, population health, or other macro-level topic(s), this forum aims to highlight global perspectives. How is your research addressing international or intercultural communities/phenomenons?
Rules and Guidelines:
1) There is a 250 word limit for abstract submission.
2) The last day to submit an abstract is February 9 2018.
3) Please spell check and edit the abstract before submitting.
Follow this link to submit an abstract.