Graduate Research Conference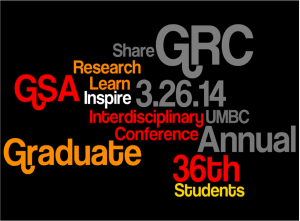 The official date of the 36th Annual Graduate Research Conference (GRC) is Wednesday, March 26th, 2014!
The GRC is an annual GSA event intended to showcase graduate students and their work on our campus.  For new graduate students it offers the opportunity to learn effective presentation skills.  It also gives graduate students who've already been working on their project for a while an opportunity to learn how to communicate the importance of their work to those outside of their field.
Event Schedule:  GRC-2014 Schedule 
Abstract Book:  GRC-2014 Abstract Book
Presentation Schedules:
Specific Directions for Participants:

ATTENDEES:  Registration to attend the conference can be found here.  Those who haven't registered as attendees are still encouraged and welcomed to attend.
PRESENTERS:  Final registrations and abstract are due by

March 1st

.  More information for presenters on how to register and submit your abstracts can be found on our "Presenters" page.
JUDGES:  Information and registration to Judge presentations at GRC is available on our "Judges" page.
Hosted Events:
Pathways Through Graduate School Panel:
This panel discussion introduces graduate students to several non-academic and successful models of what life is like after graduate school.  The panelists bring a broad range of experiences and different approaches to their careers and lives outside (and inside) academia.  More information about the panelists can be found here:  Panelist Biographies