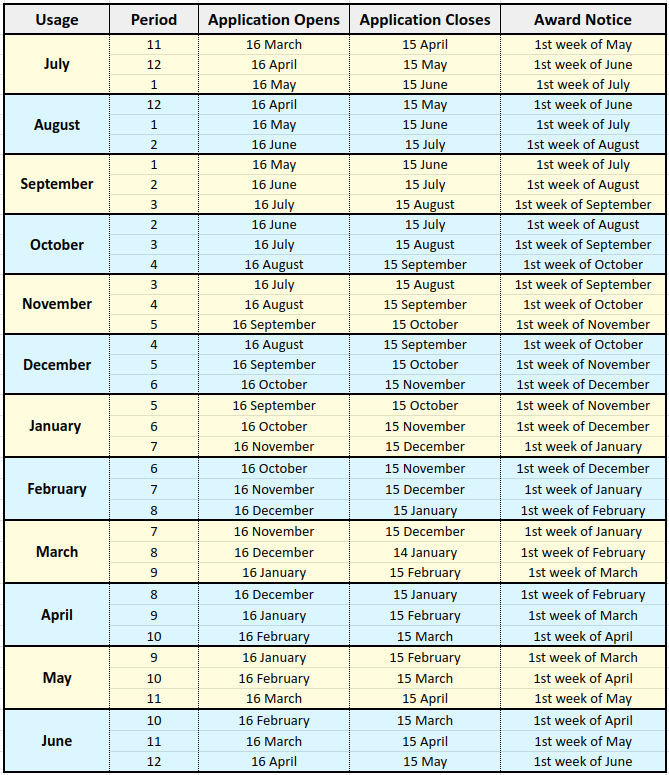 When should I apply for a grant?

The application deadline is always the 15th of the month for both research and professional development grants. At the latest, you must apply at least one month ahead of your travel date if you are travelling. Please note the table above and check the "grant usage" for when you intend to travel. Each grant usage period is 3 months with one month overlap between periods. This is so that if your application is not approved one period, you still have time to resubmit your application to be scored for the next application period. Apply as early as you can!
Which application/type of grant should I submit for financial support to travel to a conference?

You should apply for a Professional Development grant which covers costs related to attending conferences, symposiums, and other professional development events. Your application will be rejected if you apply for Research grant with the intention to cover conference expenses! Read over the application descriptions carefully!
I'm planning to go to a conference in April. When should I apply for a Professional Development grant? 

You can start applying for travel in April during grant period 9, which spans December 16 through January 15. The applications submitted between December 16 – January 15 cover travel time for February, March, and April. If you submit the application by January 15th to travel in April, you will know the results during the first week of February. If your application is rejected due to a low score or other reasons, you will have chance to resubmit it for review by February 15th and by March 15th (2 more times!). However, if you submit your application by March 15th to travel in April, your application will have only one chance for approval. Please read the deadlines and grant usage dates over carefully and submit your application as early as you can!
My conference starts on September 20th and I submitted my application by the September 15th deadline, will I be approved for September travel?

No, your application would be considered late and therefore rejected. You must apply by the appropriate deadline to be considered for the month you want to travel in. If you want to travel in September, you can see that you should have submitted your application by the August 15th deadline at the latest. You can apply for a professional development grant up to 3 months ahead of your travel date and at the latest, one month ahead of your travel date. Please take this into account as you make your travel plans.
When will I know if I have been approved?

After the application deadline on the 15th of each month, the Grants Review Panel will need time to score the applications and meet to finalize the awardees. Typically, this is will happen between the last 2 weeks of the month and awardees are then notified by the Community Liaison within 5 business days.
Who is on the Grants Review Panel?

The Grants Review Panel (GRP), led by the GSA Treasurer, is made up of 8 graduate student representatives; 2 from each of the following colleges: Engineering & Information Technology, Humanities & Arts, Natural Sciences & Mathematics, and Social Sciences & Education. The GRP meets once a month and serves a one year term starting May 1st. Please be aware that your application will be scored by students both in and outside of your field so take this into consideration when filling out the details of the application. More details regarding the duties of the GRP can be found in the GSA Points of Policy in section 8.1. If you are interested in serving on the GRP, new candidates will be able to apply in the spring semester. Email GSA or reach out to the GSA Treasurer for more information.
Any tips for filling out my application?

Applications most-likely to be funded describe the background of their work in 2-5 sentences and define how the funds, if awarded, will be spent. Applications that are most-likely NOT to be funded are verbose, have poor grammar, and are vague on details. Please do all that you can to concisely explain your answers!
What if my application is denied?

If your application is denied and what to know more information about why, please reach out to the GSA Treasurer. You may have applied for the wrong type of grant or you may have submitted your application late (i.e.: after you have already traveled). Such submissions will be denied. If your correctly filled out application was denied, however, and you still want to remain in the applicant pool for the next grant period, let the OGSL Staff know when you get your email. You could request that your application be re-scored or you could resubmit your application altogether to better explain your need for funding. A big tip is to make sure you apply early enough to ensure that you will have enough time to get your application reconsidered.
Can I use a research grant for a class project?

No, a research grant must finance your final thesis/dissertation project. This can include buying supplies that aren't available on campus, compensating research participants, or anything else directly related to you collecting your own data for your thesis/dissertation. More details on the research grant application page.
How long can I use my funding once I am approved?

For a professional development grant, you must complete your reimbursement documentation via DocuSign within 10 days of returning from your travel.  For a research grant, you will have up to 6 months to use your funding and can submit your paperwork within that time-frame as you complete your research. If you have any questions regarding submitting your paperwork please email: gsa@umbc.edu.